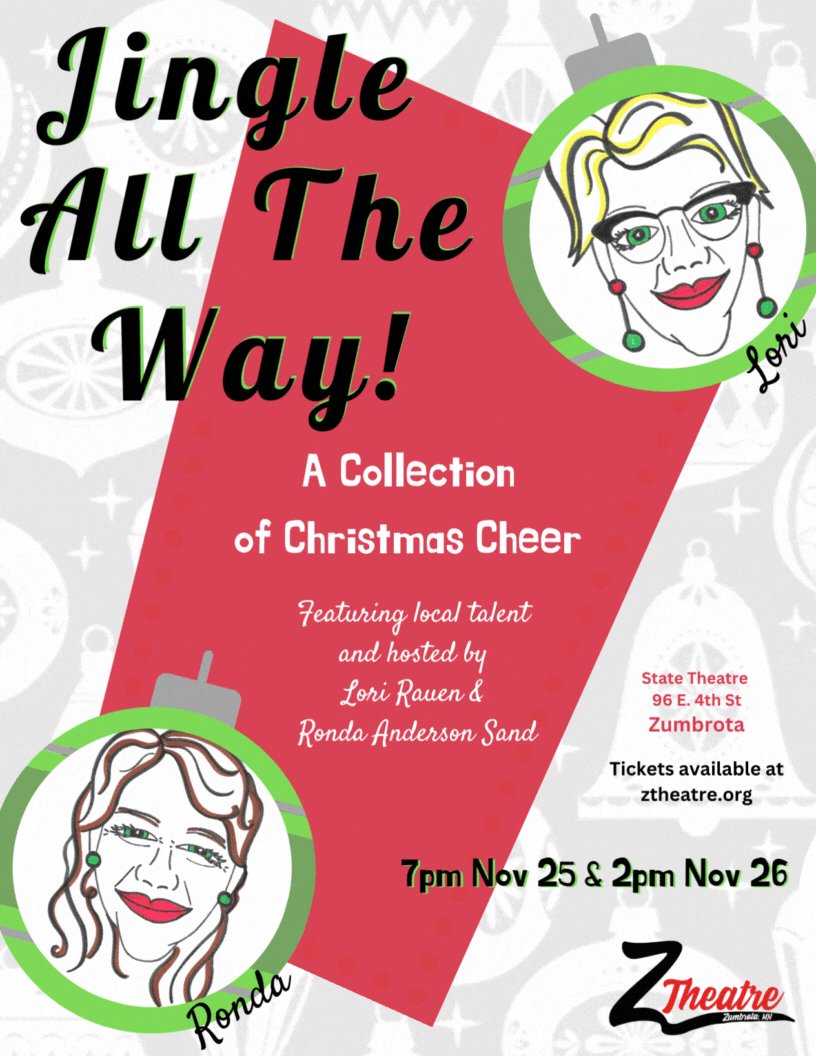 Jingle All the Way

A collection of Christmas cheer hosted by Lori and Ronda
Join hosts Ronda Anderson-Sand and Lori Rauen for an evening of Christmas Cheer!  Ronda and Lori have brought their friends together to write sketches, perform music, and bring tons of fun to the State Theatre's stage in Zumbrota.
Jingle All the Way is directed by Emily Haugen and Heather Hauser
Featuring an amazing lineup of local talent!
Laura Haugen, Zumbrota
Brian Adams, Zumbrota
Niklas Reiland, Zumbro Falls
Jason Reiland, Zumbro Falls
Laura Toombs, Zumbrota
Lincoln Toombs, Zumbrota
Eli Krenik, Pine Island
Heather McConnell, Pine Island
Amanda Ellingson, Kenyon
Triple Berry Pie (Anjanette Bandel, Ruth Casper, Karen Masbruch, and Susan Shepard), Rochester
Brendan Adams, Rochester
Ron Gabrielson, Lake City
Anne Solberg, Zumbrota
Joan Henrikson, Zumbrota
Rob Cruse, Twin Cities
Ben and Brooke Olsen, Zumbrota
           Tickets are $15 for adults and seniors and $12 for children 12 and under.                     
General admission.  There are no refunds on purchased tickets.  Doors open 30 minutes before showtime.
Performance Details
Saturday, November 25 @ 7:00 PM, State Theatre Zumbrota, MN
Sunday, November 26 @ 2:00 PM, State Theatre Zumbrota, MN